Pesach
at Chabad of Fremont Jewish Center
| | | |
| --- | --- | --- |
| | Pesach: April 10th-18th, 2017 | |
| | |
| --- | --- |
| | Community Seder |
Join us for a Pesach Seder you will remember for a lifetime!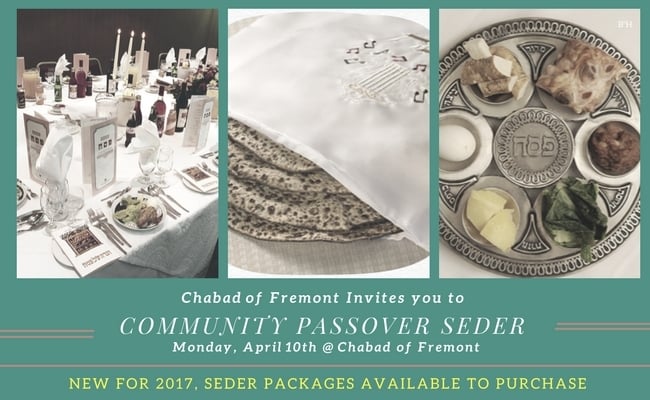 First Seder:  Monday, April 10th at 7:00 pm
Location: The New Large Event Tent
Details: The Pesach Seder is a family exploration of, the spiritual meaning, insightful teachings and enchanting stories of Passover. Familiar Haggadah tunes and a festive gourmet dinner enhance the experience.
Donations are appreciates to help offset the cost. 
| | |
| --- | --- |
| | PESACH STORE |
Would you like to make your own Seder but feel overwhelmed by all the rituals?
Chabad is now selling Seder Packages.
The packages include: 3  Hand made Shmura Matzahs, Grape Juice, Haggadah in English and Hebrew, Basic Seder Plate, All Seder Plate items: Shankbone, two types of Marror, Egg, Parsley, Charoset & Saltwater.
Do you need a Haggadah? Or perhaps a nice Kiddush Cup? Or a gift for a host? Get everything you need for pesach and support Chabad at the same time.
| | |
| --- | --- |
| | Service Schedule |
Monday– April 10th
Morning Services 8:00 am and first born fast breaking!
Eat Chametz until: 10:58 am
Burn your chametz before: 12:03 pm
Saturday– April 15th
Morning Services: 10:00am
Kidush & Light Lunch: 12:30pm
Tuesday – April 18th
Yizkor - prayer for the departed: 7:00 pm
Feast of Moshiach: 7:30 pm
Yom Tov Ends: 8:27 pm
Following the custom of the Baal Shem Tov, founder of Chassidism, Pesach concludes with a "Feast of Moshiach." This festive meal complete with Matzah and, yes, four cups of wine, begins before sunset. It is the perfect way to spiritually take leave of Pesach and open our consciousness to the coming redemption. 
Join us for services in the New Chabad Tent @ 220 Yerba Buena Place, Fremont 94536
| | |
| --- | --- |
| | Sell your chametz |
Use this online form to sell your chametz for Pesach.
Any chametz left undisposed must be sold to a person not bound by the laws of Passover. Since there are many legal intricacies involved in this sale,it is best to do it through this online portal so all the necessary information is recorded. Use this online form to quickly delegate Rabbi Moshe to sell your chametz for you.
| | |
| --- | --- |
| | Holiday Guide |
| | |
| --- | --- |
| | Purim photo gallery |
The community celebrated Purim in true African Style! A huge crowd of 130 people enjoyed the spacious tent, delicious dinner and Exotic Animal Show!
"I wanted to thank you again for an amazing Purim celebration. It was excellent, probably our best Purim ever and very well organized. We all loved it!"
Stella Levin
"Thank you so, so much for the AMAZING Purim celebration. You made everything so unique, creative and special yesterday - including the delicious Thank you again. "
Laurel Pathman